As winter fades into spring, you may be thinking about getting started on some of those projects you've been planning during the colder months. At Absolute Comfort in Crystal Lake, our HVAC specialists can help you with anything that involves heating, cooling, ductwork, indoor air quality, and more.
As you get started on your  spring projects, here's how our technicians can help things go smoothly for your home and keep you comfortable all year long.

Home Renovations
For many homeowners, spring and summer are the perfect times to take on home renovation projects. This can include updating rooms or additions to the home, but it almost always involves some level of HVAC work.
For example, if you're putting on an addition, then you're going to need to think about ductwork and how warm and cold air will be able to reach the new space. Fortunately, our expert team can help you plan for any ductwork projects you need. Contact us online or give us a call to discuss your ductwork project.
Updating Your Heating and Cooling Systems
Speaking of additions, your old furnace or air conditioner might not be the right size for the new size of your home and the expanded square footage. (Remember that you also have to think about the volume of space, or cubic feet of air.) This means that your existing HVAC system will have to work harder in order to heat or cool the house adequately with this increased volume of air space. The problem is that if your current system isn't up to the task, this can mean higher energy bills in both winter and summer. No homeowner wants that!
Our team can help you choose new options for your furnace and AC, and we'll make sure they're the appropriate size for your home. This means that each system is able to produce the amount of cold or hot air that your home needs without using an exorbitant amount of energy. We offer free in-home estimates for new heating or new air conditioning systems.
Outdoor Projects
Summer is also a great time to tackle those outdoor projects that you've been wanting to do for years! However, if you're updating the outside of the house or redoing the landscaping, then you may need to move the location of your central air conditioning unit.
Moving an AC unit is no small task, and it's a good idea to hire professionals to handle the relocation. Perhaps you want it behind the house instead of on the side, and we can work with you to decide on the ideal spot for your air conditioner. We'll take care of connecting everything and checking that your exterior unit is working properly from its new position.
Installing Central AC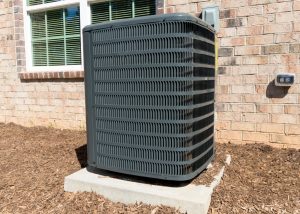 Perhaps you've been living without central AC for several years, instead relying on window units and fans. Making the upgrade can be monumental for your family, but you might be hesitant about the cost. We'll walk you through the selection and installation process, and we'll provide you with a fair and honest quote for all the work that will be involved. In addition, we offer flexible HVAC financing so you can put together a payment plan that works for you and your budget — you can even pre-qualify online!
As you're getting ready to start your projects this summer, keep Absolute Comfort in mind for any and all of your HVAC needs. We're proud to serve Crystal Lake and the surrounding area, and we can take care of any heating or cooling upgrades or repairs that you need.
We look forward to hearing from you!